There's tons of exciting new books coming out this September, it's difficult to choose what to read first! Here's a selection of my most anticipated.
Queen of Shadows by Sarah J. Maas (1st September)
The adventures of Celaena Sardothien continue in the fourth installment in the Throne of Glass series. I've only read the first novel so far (review here), but I can't wait to get stuck into the second and third books (which are apparently even better!).
Synopsis: Everyone Celaena Sardothien loves has been taken from her. But she's at last returned to the empire—for vengeance, to rescue her once-glorious kingdom, and to confront the shadows of her past . . .

She will fight for her cousin, a warrior prepared to die just to see her again. She will fight for her friend, a young man trapped in an unspeakable prison. And she will fight for her people, enslaved to a brutal king and awaiting their lost queen's triumphant return.

Celaena's epic journey has captured the hearts and imaginations of millions across the globe. This fourth volume will hold readers rapt as Celaena's story builds to a passionate, agonizing crescendo that might just shatter her world.
2. Asking For It by Louise O'Neill (3rd September)
This stand-alone novel has some amazing pre-release reviews and is sure to be a great read, after O'Neill's debut Only Ever Yours (review here).
Synopsis: It's the beginning of the summer in a small town in Ireland. Emma O'Donovan is eighteen years old, beautiful, happy, confident. One night, there's a party. Everyone is there. All eyes are on Emma.

The next morning, she wakes on the front porch of her house. She can't remember what happened, she doesn't know how she got there. She doesn't know why she's in pain. But everyone else does.

Photographs taken at the party show, in explicit detail, what happened to Emma that night. But sometimes people don't want to believe what is right in front of them, especially when the truth concerns the town's heroes…
3. Six of Crows by Leigh Bardugo (29 September)
With a pre-release score of 4.34 and some very excited reviewers, this new series from the author of The Grisha series is set to be a sure-fire hit.
Synopsis: Ketterdam: a bustling hub of international trade where anything can be had for the right price—and no one knows that better than criminal prodigy Kaz Brekker. Kaz is offered a chance at a deadly heist that could make him rich beyond his wildest dreams. But he can't pull it off alone…

A convict with a thirst for revenge.

A sharpshooter who can't walk away from a wager.

A runaway with a privileged past.

A spy known as the Wraith.

A Heartrender using her magic to survive the slums.

A thief with a gift for unlikely escapes.

Six dangerous outcasts. One impossible heist. Kaz's crew is the only thing that might stand between the world and destruction—if they don't kill each other first.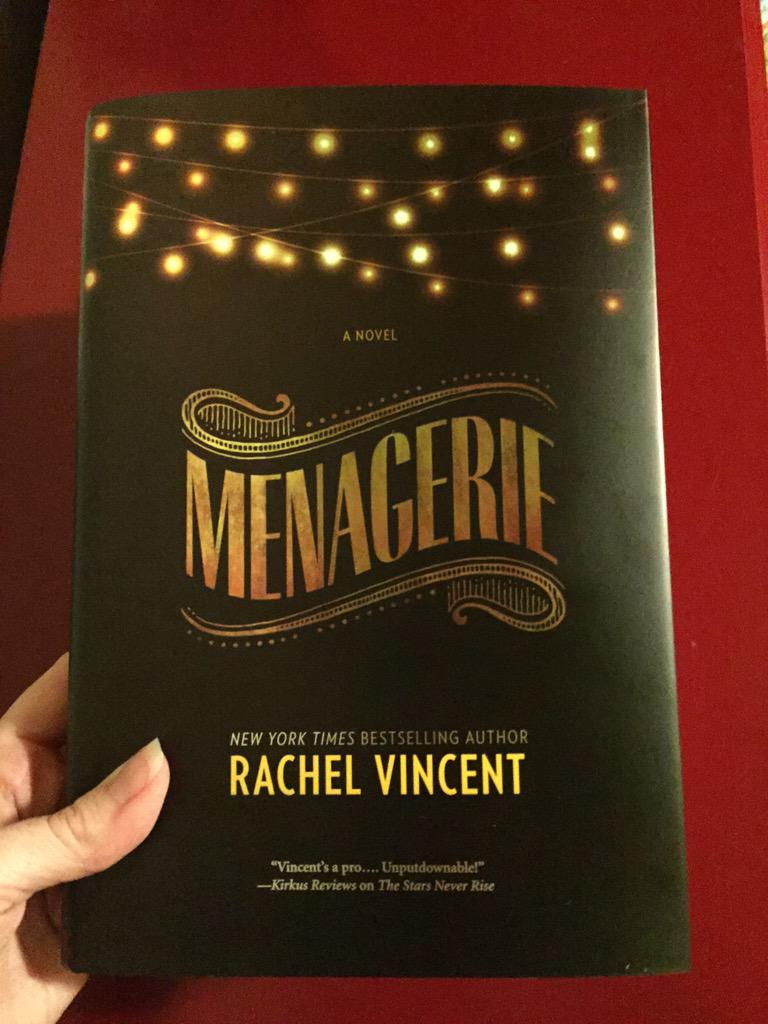 4. Menagerie by Rachel Vincent (29th September)
As a huge fan of Rachel Vincent's Werecats series, I always look forward to her new releases, even if I don't always read them. Menagerie is looking to be a must-read for me.
Synopsis: When Delilah Marlow visits a famous traveling carnival, Metzger's Menagerie, she is an ordinary woman in a not-quite-ordinary world. But under the macabre circus black-top, she discovers a fierce, sharp-clawed creature lurking just beneath her human veneer. Captured and put on exhibition, Delilah in her black swan burlesque costume is stripped of her worldly possessions, including her own name, as she's forced to "perform" in town after town.

But there is breathtaking beauty behind the seamy and grotesque reality of the carnival. Gallagher, her handler, is as kind as he is cryptic and strong. The other "attractions"—mermaids, minotaurs, gryphons and kelpies—are strange, yes, but they share a bond forged by the brutal realities of captivity. And as Delilah struggles for her freedom, and for her fellow menagerie, she'll discover a strength and a purpose she never knew existed.

Renowned author Rachel Vincent weaves an intoxicating blend of carnival magic and startling humanity in this intricately woven and powerful tale. 
What are your most anticipated books? Have you read any of these forthcoming books? Comment below or tweet me at @annalisebooks 🙂
Annalise x